We started off this series taking a look at the process of planning an event in an unusual or an otherwise unconventional setting. While that may seem objectively like a loaded topic and a poor jump-off point, it was actually the best way to start off this series. The fact is, each unique space has nuances of its own, and it'd be impractical to cover every permutation. Learning where the consistencies between them lie is a major advantage to being efficient with your time, and it's a sure fire way to get your planning off on the right foot from airplane hangar to craft beer brewery.
For the next two installments of this series we'll be doing just the same, but with categories of venues that are much more uniform. This means we'll be going deeper into the details with the goal of preparing planners to step into any new setting and feel confident about planning the audiovisual.
Hotels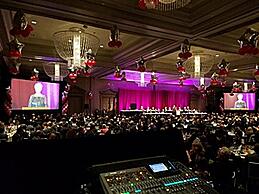 Hotels are a staple of events. Especially in markets like New York City, they offer some of the largest meeting spaces in town, and also the most versatile. Hotels can offer not only a setting for the main event, but also for any ancillary meetings, cocktail parties, registration centers, and not to mention hotel rooms for any travelling attendees; and it's all scalable to your specific needs.
Options / Opportunities
Conferences, town halls, galas, and awards dinners… these are just a few event formats that fit well within the hotel event model. And that's due to a few factors: the ballrooms are generally rectangular and raw, there are flexible options for adjusting room sizes to meet your attendance needs, and most of the major event expenses are available onsite. Food, beverage, service staff – and yes, the audiovisual – are often right at your disposal in a room sized perfectly for your audience, and with very straightforward approaches to layout.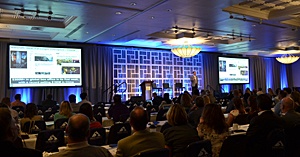 That said, when it comes to the AV, consider that the in-house department is predicated on the convenience element alone. Small setups, or a few rented items spread out across a few meeting rooms? The in-house will have you covered. But if the production level of the show goes up and your margin for error is nonexistent, the in-house can only provide varying degrees of capability at best, and it usually caps out. Bringing in an AV production partner will offer you a production designed around your event and its messaging, and not the other way around. In the end, you can even find a great balance of collaboration between the in-house AV and your outside partner so that you have the best of both worlds.
Guidelines & Cost Drivers
To continue this point, the first question to ask is whether or not there is an in-house AV department or an exclusive contract with a vendor, and what the guidelines are. Depending on the location, the AV team, and the specific agreement between them and the hotel, there may or may not be costs to consider. If there is a service fee for bringing in your outside AV partner, you should find out how much it is, if it's a one-time fee, per day, per room, or some variation of the three. In other instances, you may be told that you must use the in-house or exclusive vendor – but be advised, the vast majority of these situations are totally up for negotiation. After all, the hotel will stand to profit from the transaction, either through commission or via a service charge. So, if you have a trusted AV partner that you want to continue to work with then you should tell the hotel – they usually want to win your business regardless.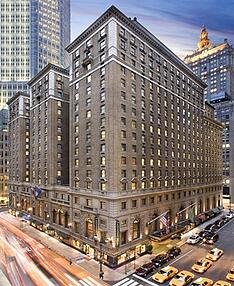 If the hotel is in a market like New York City, Chicago, Las Vegas, or San Francisco, there will likely be unions to deal with for AV. These are case-by-case situations, as each hotel contract may vary and include different production guidelines for outside vendors. For instance, if you contracted with your outside AV partner for four of their technicians to complete a setup, a 2:1 union guideline would require that you also hire two local union technicians. Generally, union costs are pricey, and it could represent a significant spend. Your AV production partner can help you mitigate union costs for the best possible result, but you should plan to have the conversation early on.
Electrical power is again something to consider. The difference with unusual venues is that many hotel event spaces will be quite capable in terms of how much electrical power they can supply, but be advised that there are usually costs associated with it. There may be a request form to fill out, or it may be more informal, but you should establish how much electrical power you need, and ask the hotel about it. Depending on how the hotel was set up, this may be a duty of the in-house AV provider who will physically install power distribution, or it may just be a fee added to your final bill. In any case, your AV production partner can help you navigate this, as they will generally require the most power.
Similarly, if you require WiFi for your attendees, or internet access in general as part of your production needs, expect that it could be an added cost. For the case of AV, if your program includes a webcast or if there is any content that pulls from the web, you'll need a hardline internet connection at your technical production table, and should establish that well in advance. Many hotels also provide their own staging, separate from any in-house or exclusive providers. In those cases, it's almost always more cost effective to get the stage from the hotel, and could go the same for a podium if you're happy with the aesthetic.
The timelines will also be a factor. For any events with early morning starts, you should consider setting up and testing the day/night before, especially if your program runs all day. Whether this means booking the venue for an extra day, or just hoping to get lucky if nothing else books in the space the day before, you should be on the same page with your AV partner on timelines and associated costs. And in any event, if your setup runs late or there are early mornings across multiple days, you will be well served to provide hotel rooms for the AV show operators. This way you'll have engineers bright and early who are sharp, rested, and ready to execute a successful event.
Lastly, storage space: you may very well have options like behind the drape, an unused room or closet, or even in the hotel shipping/receiving area. The key is to confirm that, and find out where that is. It's definitively a speed bump in the setup and strike, but especially when if you have other rooms setting up at different times with more equipment, then paying for more space becomes the best option. If the needs are basic, consider this a perfect opportunity to rent from the hotel AV.
Approach
One unique aspect of hotels is that there are often multiple layout orientations available, since a rectangle is fairly easy to manipulate. The number of people in attendance, how they are seated (theater, banquet, classroom…etc.), and how big the ballroom is will be the first few items to pin down if possible. If this is a case of one general session and multiple smaller breakout meetings, establish the location of the general session first, since you'll usually have the fewest options for the biggest audience. When deciding on layout, floorplans are your friend. Knowing how much space you have to work with is not always obvious, and that will be a key factor for your AV production partner to design around.
Projection is very common in hotels as they are generally quite conducive to it, and may offer multiple scenarios that work well. Since projection is usually the most cost effective approach to visuals, and since it does have the most spatial requirements, it's best to start there. Front projection vs. rear, catty corner vs. straight, fewer larger screens vs. more small screens… there are plenty of ways to design it and with a sliding scale of setup time. But video is not limited to just projection, and you may consider looking at it as part of a larger set. Modular set pieces are a great option for backdrops in hotels, as are video walls – your limitations are few beyond what meets the eye, which is why it can be a great environment to get creative.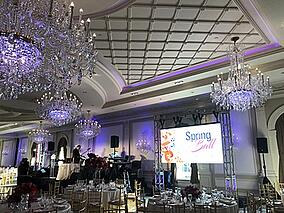 Counter intuitively, site visits are extremely important in the planning, even when the ballroom is easy enough to picture in mind. The flexible, rectangular nature of the common hotel ballroom lends itself to creative ideas, constructs, and show designs. But hidden pitfalls exist like locations of chandeliers, drop ceilings, air walls, or even cable paths. It's worth it to walk the space, visualize together, and even take some specific measurements.
Finally, there may be instances where the best option is to get things off the ground and hang them from the ceiling, provided that the hotel does have rigging points. Sometimes the need arises due to the size of the space, making certain technology challenging, and other times it will be a means to freeing up additional seating room. Expect there to be significant costs here too, and depending on the location of the points and how much weight they can bear, it may take a fair amount of planning and coordination all by itself. That all said, it goes a long way in transforming a space and upping the production value for everyone.