In our final installment of this series, we're going to delve a little deeper into the specifics of webcasting. That is to say, if you've already gotten an understanding of webcasting and Hybrid Meetings, you've determined it's right for your event, and you've already addressed the potential pitfalls, then it's time to start fine-tuning!
As we've discussed already in the previous installments, there are plenty of different reasons for why you'd want to webcast your program to a remote audience. Naturally, with each application, there are options for you to tailor your webcast to your audience and your event goals, as well as your budget. Just as you may not necessarily purchase a high-end sports car just to pick up groceries on the weekends, you don't always need the most robust webcasting platform. However, when the stakes are high and performance means everything, well then that shiny roadster might just be your ticket to success.
Options
Just like buying a new car, when choosing your webcasting approach, you'll have a string of many, often seemingly convoluted choices to review before signing your name on the dotted line. Not to worry – much of it is fairly easy to digest, and a simple answer is usually easy to come by once you've built up some familiarity. These choices often center around what features/functions you require, or that your remote audience will require.
Sound and/or video – What are the critical components that need to be shared with remote audiences to effectively convey your messaging? Maybe it's just an audio feed of your event, and remote users need only listen along. Perhaps sound, along with a camera feed of the presenter/stage would be more impactful. If there are also visuals to display (Powerpoint slides, videos…etc.), you may want to show just those instead of a camera image so that remote audiences are able to fully digest the visual content while listening to the presenter speak through each slide in real time. And finally, you might also require all three – sound, camera feed, and visual content.When you do need all three, you'll also need to decide on the arrangement. The camera & visuals can be displayed simultaneously in a Picture-in-Picture format, in a side-by-side format,  as well as full-screen of one or the other (switched between continuously by a director). It can even be a completely user-customizable experience so that remote audiences can choose for themselves. As the production level increases, and the remote audience experience – how engaging the material is – becomes more and more critical, you may even choose to add additional camera angles. All of these are possible, and all of these answers get you closer to which platform is right for your application.
Q&A – One of the most common questions that needs answering when discussing a show flow is: "how will we handle Q&A?" This is no different for webcasting, and allowing your messaging to touch remote audiences may require an element of interactivity. Most webcasting platforms do offer an option for live Q&A – often in the form of a chat window. Generally, users type in their questions on the same computer they're watching/listening to your webcast from, then the question pops up on the webcast operator's side or the "Backend", and then the admin/event planner will curate which questions should be addressed. There are many ways of actually then conveying those questions to the stage, but that's a topic for another article. That said, just be mindful about whether or not you want all of your remote attendees to be able to see all the questions that others send in real time. You can typically turn a feature like that on or off – and if you're sensitive to what kinds of things are viewable to your entire remote audience, then you may want that feature turned off; that way you'd get to see all questions yourself before anyone else does.
Analytics – For certain programs/applications, the quality of engagement may be of particular interest, and you might require some of that qualitative information from your remote audience. This could be for justifying webcasting costs, requiring session attendance for training purposes or for getting a good read on the general interest level of your remote attendees. Regardless, the more viewer metrics you require, the more robust the platform you choose will need to be. Most platforms will offer a simple "how many users tuned in?" – but when you're looking for more advanced metrics like "how long did each viewer remain tuned in?", or "what regions were the viewers geographically located?", then that'll lead you towards the higher end of the webcasting platform spectrum.
Monetization – This option should be considered two-fold; you can both sell sponsorship, and/or sell tickets to view your webcast. For sponsorship, many platforms will allow you to, at the very least, display a logo or other image into the webcast window that's viewable to the remote audience. Of course, certain platforms will allow for more customization than others, and so if one of your primary strategies is to find a sponsor to cover the webcasting costs, then you may opt for a platform that offers more customization. And by the same token, if selling tickets to your event is a critical component to generating revenue, then you might consider a platform that offers such a feature. NOTE* this feature may require setting up a pay-to-play portal via a third-party web platform (i.e. may not necessarily be a feature of your webcasting platform alone), but not to worry. You should simply ask your webcasting partner about this feature to make sure the webcasting platform you're using will be compatible with a pay-to-play portal – and if so, you should at least be given a good recommendation on how to go about setting one up. It may be an extra step, but the added revenue could very well make it completely worthwhile.
Reach – Another major option to decide on is how many people you need to reach with your webcast. In some cases, you may only need to reach a few individuals, in which case most platforms will be viable. As mentioned in our previous installments of this series, you can even reduce the number of "attendees" by grouping them together if possible, and displaying on larger screens than a typical desktop computer. But consider that when you need to reach wide audiences – perhaps a mobile workforce that's spread out across the globe – you need to make sure that your webcasting platform can handle that. In some cases, it may be a tiered offering depending on how many users you'll be capped at.
Quality / Reliability – This is fairly straight-forward, but if you need your content to be webcasted in high definition quality, you may be pushed to use higher end platforms that are able to handle the added bandwidth (see also: Bandwidth, what to watch out for). But if it doesn't matter, you may be able to save some money. Just note that the cheaper options may also be less reliable – meaning you'd be more prone to dropouts or signal degradation.
Platforms & Applications
Now that you have an idea of what types of options come into play, it'll be helpful to decipher between the different platform options. To simplify, we've broken the many solutions down into three tiers. That way, you'll be able to identify from a distance what you're looking for and save some time in planning.
Tier One: Smart Phone / Tablet live-streaming to Social Media – You may have seen people filming from their phones and tablets direct to Facebook live, YouTube, Twitter…etc. This, whether you realize it or not, is a viable form of webcasting content, and you're not entirely limited to your device's capability. You can use microphones for presenters and feed a clean audio signal to your device. Then, just add a basic phone or tablet tripod, and you'll have a professional looking product in a short time.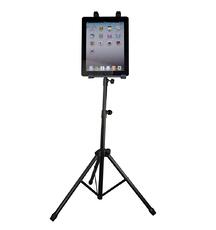 You are somewhat limited to the onboard cameras in these devices, and so you may choose to simply capture any visual content (perhaps displayed on a TV or projection screen), in the same frame as your presenter. Any Q&A would need to happen in Facebook comments or whatever else your social platform allows for, but don't expect much flexibility with it – you get what you get.
With this method, you'll get good audio and video feeds, and as wide a reach as you have means for within your network of influence on these social media platforms. That said, everything is public, so make sure the content is appropriate for ANYONE to view, and adheres to the community guidelines of the social platform that's hosting it. Social platforms like Facebook do actually have a decent set of advanced analytics, but you don't have much in the way of customization/branding other than making live announcements, so your sponsorship opportunities will be limited; and the pay-to-play portal capability will be totally hit-or-miss.
This will be the least expensive option, where your only significant costs would be whatever you use to increase the production value (i.e. mics/audio, backdrops, lighting for presenter, TV / Projection screen… etc.).
APPLICATIONS: Large businesses looking to promote global internal unity with regular webcasts / addresses from VIP's (some businesses are even using and developing custom social platforms designed just for their internal use); small businesses sharing promotional events with its followers/customers; social gatherings with on-the-fly attendee interviews; basic live feed for anything that some may wish to attend but are unable (graduations, low-level ceremonies, press conferences)…etc.
Tier Two: Laptop-Based Platforms – These platforms (Webex, Skype for Business, GoToMeeting) are very common, and a little more robust. They allow for fairly decent audio quality, visual materials (Powerpoint / video playback), and also for a camera image. Note: you will need to provide the camera, as well as an interface to connect it to a computer. That said, you have a little more flexibility, and can provide a more professional product than social media streaming.
Additionally, these platforms offer Q&A chat feature, basic user-analytics, and a varying level of audience reach. Most will offer the ability to customize, but is generally intended for "cookie-cutter" events since they are generally subscription-based.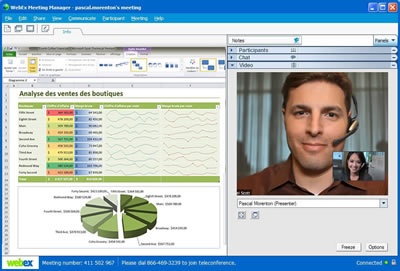 This tier will be the mid-level option in terms of cost and production value, wherein you'd need to provide an audio system, a laptop to run the platform, and also a camera (if it's needed) in addition to any desired backdrop or lighting. The platforms itself will host visual content within it, but you'll need someone to operate it and cue the visual content. Best practice is to have one laptop running the webcast, separate from the video system that is displaying for any local audience (TV or projection screen).
APPLICATIONS: Small-midsize business product demo; small-midsize business  update or shareholder presentation; small-midsize institution continuing education program; paid webinar… etc.
Tier Three: Encoder and Backend Support – When you need the remote attendees to have virtually the same experience as if they were physically present, you need a robust system with a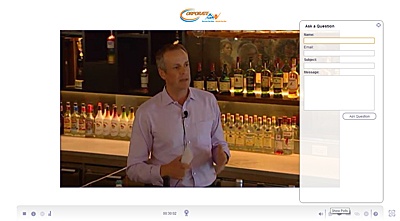 high degree of flexibility. In this scenario, you'd need specific equipment  which can handle whatever content you can throw at it, as well as systems and servers that distribute your webcast to the remote users. This aspect is known as a "back end", a channel through which your webcast passes, where live support is standing by to assist with any network issues. This allows for higher quality (high definition) audio and video (both camera feed and visual content), with minimal dropout or signal degradation.
Most of these platforms will have a Q&A chat feature, as well as a high degree of analytical information available following the event. They also have a generally wide reach, which may be structured into tiers of how many remote users can attend, and more options for customization of what those users see. The display that the remote viewers see can be fully branded for sponsorships, and can also offer a number of different display options for camera(s) & visual content. You may allow viewers to be able to toggle between picture-in-picture, side-by-side, or full-screen display modes themselves, so that everyone can process the messaging in their own way.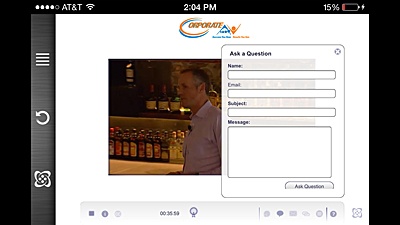 Since the backend support is built-in, you have options to send this webcast to multiple locations (think Facebook, Youtube, AND a website), as well as for adding a pay wall for pay-to-play ticketing. That also means you have the added option of having the platform host your webcast for an extended period of time following the event in case anyone missed it – there is even additional analytical information for those that view the webcast later on.
This will be the most expensive option, offering the most flexibility, and the highest production levels available. Expect that you'll need to provide all the AV production elements consistent with your production level, the web encoder, as well as the back end support and pre-planning.
APPLICATIONS: Ticketed conferences/festival with keynotes and panel discussions; business updates or shareholder presentations; client presentations / product updates…etc.
We hope that after reading through this series, you now feel more familiar with the options and process of setting up a webcast. Again, it may not always be a fit for your event and messaging; but when it is, it can be an incredible advantage. Our team has experience implementing platforms in each of these tiers, so you can always  call or email us and discuss your options.