Among the many decisions to make when planning and designing an event, there's one that anchors the entire aesthetic: what to do about a stage backdrop. Now, if money were no object, the end result could be as breathtaking as the golden chariots that guests rode in on. But naturally, budgets dictate prioritization, and typically the backdrop is lower on the list than sound, visuals, and lighting.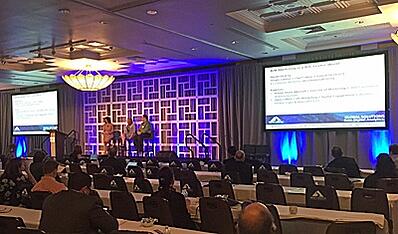 Generally, conversation around the backdrop starts (and sometimes ends) with black pipe & drape. Of course, that can be very plain looking, but beyond that, there is endless supply of décor options that can provide the kind of look and feel you're aiming for. But the reality is, too little of anything is quickly overlooked. For example, the various forms of texturized set tiles provide a really fantastic look, but you really need a certain minimum number of them to create any kind of cohesive aesthetic, and that will drive cost up. When budgets are tight, but you really want to make visual impact, or to just shake things up from previous events, simply changing out the color of the drape can go a long way.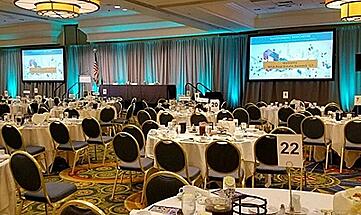 For starters, black absorbs more light than any other color or shade, which means your uplighting won't pop nearly as much as it could. Lighter colored drapes like white or gray will reflect light better, making your entire backdrop brighter and more noticeable. Colored drape also provides an opportunity for branding, using colors that show up in logos, or provide unity with other event décor. Look for inspiration in everything from event invitations to floral arrangements, tablecloths…etc. Typically, the cost difference between the different colored drapes is marginal, if there is one at all. White and light gray drape are more difficult to maintain, and have to be cleaned, so expect a slight cost bump there. That said, you may find that some colors don't even cost any more than black.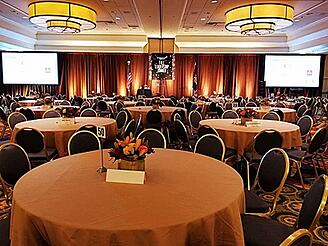 However, one thing to note, specifically when it comes to projection is the screen surround. In the audiovisual world, black screen surrounds, called "dress kits", are overwhelmingly available in black, and colored dress kits are either custom, or handled with an altered type of pipe & drape. All that means is, you may have an additional cost there if you're projecting from the rear (behind the screen). If you're projecting from the front, you can always hang the screen frame from the drape itself, thus avoiding the need for a screen surround entirely.
Alternatively, if the room permits, you could also leave enough space between the screen and the backdrop so that the black screen surround will fit within the context.