It's common sense. The venue seems to have everything you need at your disposal: the Food & Beverage, linens, tables, and the audiovisual. By pulling a bit more value from your venue, you can save 15-20% of your event budget. The reality is, you could be totally right. Modern, consumer-friendly AV equipment is now commonplace, spanning your wireless home sound system to the smartphone apps that we can control them with. Today, if you have enough time, a good system design, and a bit of tech know-how, you may just be in the clear. But before you arrive for set up, there are a few things to consider.
Personnel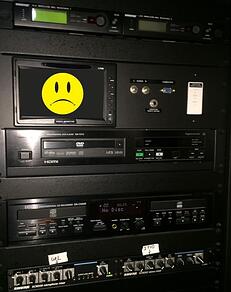 The first, and arguably the most important thing to ask yourself before deciding to use the installed AV system at a venue is: will we have someone onsite who's familiar with all the technology we're relying on? Some components might seem obvious enough, but you may be forgetting how much time you've spent sifting through instruction booklets. Digital? Analog? VGA or HDMI? Do you need both? You can end up racking your brain to get a logo on screen, while your cocktail music is getting lost in the walls somewhere between your client's iPad and the overhead speakers. The line between success and failure is always thin onsite, and the half hour you lost scrolling through menus and toggling inputs could be just be that.
Be sure to have an events team in place that includes someone that has a thorough understanding of the equipment. It can be venue staff with proper system training, an outside AV production partner, or an internal media services team who can join you on your site visits and plan accordingly. Otherwise, it's just another thing that's all on you.
Programming
Installed AV also presents challenges in a broader sense; the very nature of installing something makes it permanent, and it exists with its own set of limitations. When the production level goes up and you need to maintain a level of flexibility, be sure you know whether or not your event needs can be met.
Beyond just the physical parameters, these state-of-the art AV systems almost always involve some custom programming work, usually done by a third party installation team. This introduces a human element into the equation: the design of the AV system could be flawed, outdated, or even just a bad fit for your event flow. Especially in venues with air walls and different room configurations, you could be leaving the door open to annoying control (or a lack-thereof) issues.
Of course, the design can be great too, but your ideal event flow may just be out of sync with its capabilities. In some cases, the configurations can be altered, but be warned: the third party engineers who installed the AV system are likely the only people who can address it. So, if you're thinking outside the box, you're going to need to leave yourself the time to get proper assistance; and you should always have a backup plan.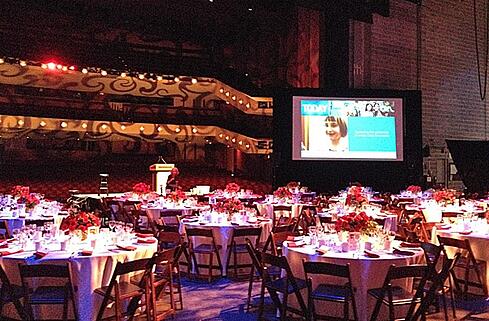 Find that person you trust to know the installed AV system in and out, and talk through your event program with them in detail. You may discover conflicts that were not apparent, or advantages you could have missed out on. In the case of conflict, be sure to ask if there's anything you can do to supplement the installed AV system with outside equipment. You don't always have to choose exclusively between venue assets, and the right tools for the show. Be advised, it's not always as simple as bringing in an extra microphone, and the total cost increase varies with each situation – but it's still less than if you had to build everything from the ground up.
Problem
An age-old and often hard to ask question: "What happens if there's a problem?"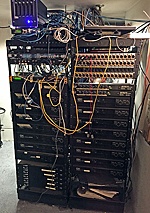 Most won't wish it on their enemies; but the reality is there is any number of ways for something to go wrong. There are controllable things like human error or poor planning; and then there are the uncontrollable and unforeseen circumstances like equipment failure. Technology is thus far inherently flawed; AV equipment can break or otherwise fail, especially as it ages. Of course, everything is maintained and tested incessantly, but it's the reason larger scale productions will include redundancy at every avenue their budgets will provide for.
In the case of installed AV systems, it all comes down to one word: "liability." Who's responsible for what? Especially if you happen to have a third party audiovisual partner supplementing an installed AV system, it's important to know where their responsibility ends and the venue's begins. And if there is any preparation work that needs to take place, there should be a clear expectation set for all parties on who's doing what.
Frankly, it's usually a simple answer and a quick conversation, but you'll be glad you had it if you're ever caught in the middle. Talk with your venue staff, your internal team, or your AV production partner prior to every event and gather thoughts and concerns. That way, whatever happens after the lights come on and the cameras start recording, everyone will be on the same page.