In our final installment of the venue series, we'll talk about a category that is rapidly advancing within the events industry: the Conference Center. The blend of variables leaves it somewhere between the blank canvas of a hotel ballroom, and the unique nuances of somewhere less conventional, but they are never-the-less a completely viable option. While conference centers are not exactly new as a category, there are new players popping up in major cities that have begun to compete with hotels for the same programs – and they do so with a focus towards hospitality and cutting edge technology.
Conference Centers
Since installed technology is a major component of these spaces, we recommend going back to read up on working in a space with installed AV equipment. But if you have a good understanding of those best practices, then you're ready to take the next steps.
Options / Opportunities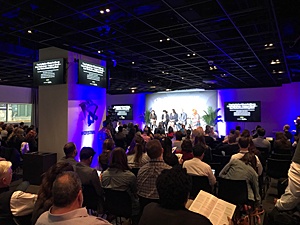 The conference center lends itself best to its namesake: conferences. And it's no wonder since they often contain multiple rooms of different sizes, and AV equipment designed to suit a presentation format. You may find one room is significantly larger, making it ideal for the general session, and the smaller rooms then serve well as breakouts. As we've discussed in previous articles, the specific design of the installed AV system is key to understand, as it opens (or closes) certain doors.
However, as this category has developed, so too has the quality of system found there. The top systems will often include a layer of flexibility in order to accommodate the individual flow of your programs. Perhaps the general session space will have the capacity to send audio and video feeds to the other spaces, allowing you to have overflow rooms; or, maybe the PowerPoint presentation shown in one room might also be viewable in other rooms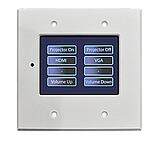 at the click of a button. In the end, the simplest approach could always be best for you – but even still, the better the design, the more options you should have. Control of these changes is also a major component to address. Some systems allow for mobile control from tablets, which would allow for much quicker transitions; however, if the control is limited to certain positions like wall plates or IT closets, then you might be best served to choose your ideal orientation and stick with it.
Guidelines & Cost Drivers
Truth be told, depending on the complexity of your program, the design of the installed system, and the general production level that your group requires, a conference center very well may be able to handle all your AV needs tip-to-tail. On top of that, the level of technical ability of staff in conference centers seems to have been a key advancement of this category as of late too as the shift towards hospitality continues. But just note that this will usually be case-by-case.
Whether it's due to staff, equipment, or system flexibility, there may come a point where having your AV production partner integrate with the conference center becomes a necessity. At this point, the major cost driver will start with how much of the installed equipment can be leveraged, and how much needs to be supplemented. In these situations, note that the operating staff should be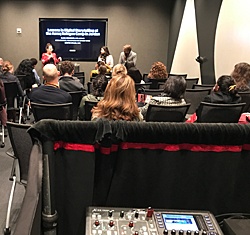 using their own equipment – so if you're bringing in system control (like audio mixers, video switchers…etc.) to run your show, it's best also to have the AV partner provide their staff to operate the show as well. You wouldn't want your pilot getting used to a new aircraft shortly before takeoff after all – even though the equipment might be virtually the same, it takes time and repetition to keep things smooth. The venue staff may still be a necessity though, so consider that staffing from both ends (vendor and venue) may still be required. The conference center contracts will each vary, and include use of certain features or equipment. Beyond what's physically installed and visible, venues may also own more equipment (TV monitors, uplights, projectors…etc.). Compare these rates with your AV partner to keep your costs down, and always know who's responsible for what.
Fortunately, unlike hotels, these conference centers will often provide electrical power and internet access within the cost of the venue rental. In newer conference centers, these two are usually robust. And since these venues are generally not unionized for audiovisual technicians, you can also avoid paying costly union labor rates and are free to work with whomever you like. Just note, with these three items, you should do yourself a favor and confirm them regardless, as any of them could add substantial cost if your space does not follow suit.
On the down side, these spaces are usually found in corporate office spaces, and deliveries are only accessible via freight elevator. Often, there are specific timeframes to when equipment can and can't be loaded in, and it either requires you to abide by that timeframe or face additional costs for after-hours freight access. In some cases, the AV end may need to be set up the day before your program, and just like hotels, you may need to book the space for additional time to do so. Keep in mind that this also applies to your strike too!
Storage is also case-by-case, but note that many of these conference centers don't have a large back-of-house areas like hotels do, and so you should not rely on storing your empty AV cases onsite. And freight elevators may be needed again for that, you have to consider those timelines for accessing it once again. Keep in mind, for the AV end of a larger production, you'll really need to keep at least a couple of cases onsite for things like extra cabling, batteries, tape…etc., and so you should have that conversation early on.
Approach
By now, the recommendation of conducting a site visit should sound repetitive, but it's true for unique reasons in every type of space. For conference centers, when you need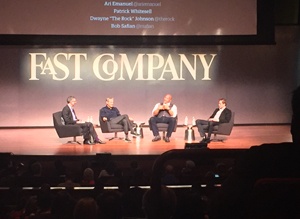 to bring in your AV production partner to supplement the existing equipment of a conference center, knowing what to start with is the first step. We recommend organizing the site visit to also include a representative from the venue who is familiar with the AV systems installed in order to have a more productive conversation. That way, you can walk through your vision for the program, and work through the technical details as efficiently as possible. Your AV production partner will also need to be well versed in the system's capabilities in order to make for effective conversations down the road. As things develop, there are always changes and questions to address, and the better informed your AV production partner is, the quicker you'll get your answers.
The layouts of each room will usually be straightforward and obvious since they are designed with presentations in mind. Installed TV's or drop-down projection screens will lead the way on what orientation the room is typically set in, while others might offer multiple configurations. Even still, you may choose to replace the installed displays altogether and create a totally unique experience – the choice is yours. You'll have similar options for audio and lighting as well, but since much of this content has already been covered, we'll refer once again to our article on venues with installed AV equipment.
Lastly, we recommend you facilitating and encouraging open communication between your AV production partner and the staff of the conference center. When the program begins, they'll both be on the same team working towards a successful show. The nuances of technical details are many, and your team should be empowered to confirm as much of it as possible. For two systems to work together as one, every possible variable needs to be controlled, and ongoing communication is necessary.