For our third installment of the backdrop series, we'll be taking a look at a few different scenic elements that will offer your stage design varying degrees of flexibility, functionality, and elegance. That is to say, the options here are much more customizable than colored drape alone, or even modular options which is mostly confined to the limitations of their framework.
Dealing with fabric and hard sets will require a strong creative touch in order to create a cohesive aesthetic; however, when well-executed, the end result can be truly remarkable.
Fabrics
There's much more to fabrics than just pipe and drape. Manipulating the types of materials, the ways they're hung or displayed, or even what purpose they serve (function or aesthetic) are all ways to make your backdrop totally unique. In order to keep this concise and actionable, we'll just focus on three different possibilities – but understand that the choices and combinations available extend far beyond this.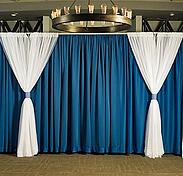 Curtains are an easy place to start, and offer a wide array of options and additions all by themselves. Generally, curtains create a more theatrical looking backdrop, which can be combined with traditional pipe and drape to add more depth, texture, and color combinations. The elegant appeal is a great fit for high-end social events, like gala dinners or award shows. They create opportunities to match décor color schemes, and will also set the stage (pun intended) for much more interesting and engaging lighting schemes. Costs will vary depending on selected materials, and are available in cotton, velour, and voile, and much more.
Curtains can also serve as the backdrop all by itself. Think of the house curtains found in a theater that comes up and down during a production. They are often pleated to provide an interesting texture, which can then    be amplified with just simple lighting effects. Just be advised, these items are often available for purchase and cut to specific lengths – finding something like this for rent may not be possible in every scenario.
Fabric doesn't have to be purely aesthetic; it can be used as a surface for projection too. Stretching out a material like muslin can replace more traditional projection screens, and can support both front and rear projection. This can be the platform to show any visual content (videos, slides…etc.), decorative, or an opportunity for branding and sponsorship. The fabric doesn't even need to be rectangular – consider experimenting with other shapes to fit event themes or other décor elements. This concept could also be expanded to create much larger visuals or even become the entire backdrop – sometimes referred to as a cyc, or cyclorama. Just note, with projection in the mix, as you scale up in size, costs will quickly follow. Alternatively, projection and/or lighting effects can be displayed on different types of materials as well, like string curtains, or even beads.
Lastly, and while they may not be fabric per se, beads do fit into this category and are a viable option to spruce up any backdrop. They range in size and shape, and create a shimmering effect when lit properly. This option is a relatively inexpensive addition to pipe and drape, and can be a great backdrop for an evening's entertainment.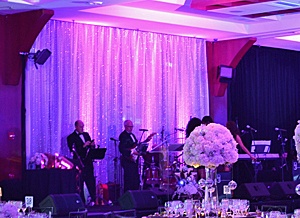 Hard Sets
Hard sets are a fantastic way to create a backdrop that is one of a kind. Often a great fit for corporate events, these types of backdrops generally involve a fair amount of custom fabrication, print work, and build time, and are very much focused around a clean and modern aesthetic. These types of backdrops usually consist of a wooden or metal framework that is either made-to-specification, or pre-fabricated, and then assembled onsite. Then, stretching printed fabric over the frame, or fixing panels of various materials (plastic, foam core board…etc.) to create seamless surfaces – very similar to a modular set design, but you generally have more creative freedom.
Some sets leave cutouts for projection screens or TV monitors in order to incorporate the visuals into the set, while others are simpler constructs that are just meant to be a focal point behind the stage. The design work is really the key, so the best bet is to start there and then build around it.